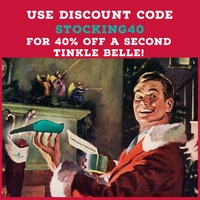 Buy the perfect stocking stuffer on sale! Buy one get one 40% off with discount code STOCKING40
BUY NOW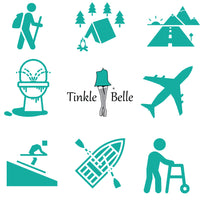 The Tinkle Belle will be used while hiking, camping, road trips, on airlines, winter activities, boating, mobility issues, and in dirty restrooms. Take your Tinkle Belle with you everywhere to make life a little cleaner and easier when you have to go!
Buy Now
COOL FEATURES YOU WILL LOVE
USE IT FULLY CLOTHED
No need to bare all of your assets! The Tinkle Belle is specifically designed with a hard shell portion so that you can use it with all of your clothing without it collapsing! It doesn't overflow or collapse like silicone funnels. Just insert it into a fly or move clothing down in front, point the spout down, and you are good to GO!
NO NEED FOR TOILET PAPER
Yes, we know when you are out and about that you may not have extra tissues or wipes with you. No problem! The Tinkle Belle is designed with a soft wiping "squeegee" lip so that you can remove any remaining drops. No wet clothing for The Tinkle Belle!
COMPACT & FOLDABLE
The Tinkle Belle is LONG when unfolded and being used, but compact when you are out and about! We know that #sizematters .This longer spout allows you to pee further away from your body. No more peeing on your feet and clothes! You can now have a longest pee distance contest! When you're done being victorious, you can fold it in half to make it compact and be a discreet champion!
DESIGNED WITH YOUR SHAPE IN MIND
The Tinkle Belle is engineered and designed to be anatomically shaped to fit you! Pee in confidence without leaks or overflow. The anatomical shape allows for the correct seal against your body and our built-in thumb-rests assure proper placement. Aim with precision!
PORTABLE AND EASY TO CARRY
The Tinkle Belle is lightweight and easy to carry with the included case! You can carry it to any outdoor activity, hiking, airplane travel, road trips, camping, festivals, concerts, dirty restrooms and more! Carry one in your glove box, in your purse, or clipped to your backpack! You will find the convenience of The Tinkle Belle necessary for wherever you go!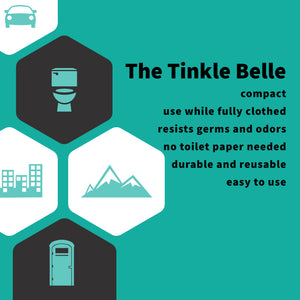 Your purchases of The Tinkle Belle helped us commit to a fifth orphanage!
One of our missions is to open and sustain orphanages. We just committed to build our fifth orphanage. Read more about our mission here.